Nine-year-old's birthday party Sunday serves as Sandy relief fundraiser for Long Beach.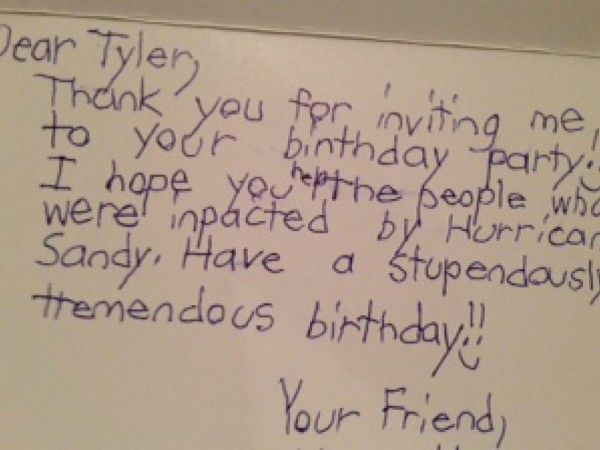 PORT WASHINGTON, N.Y. – Tyler Fazzari sent out invitations for his ninth birthday party with this request:
"No gifts please. Instead, I would love to help Sandy victims/schools rebuild. PLEASE support me by either bringing a Home Depot or Lowe's Gift Card OR a check made out to LBSD Sandy Relief Fund (Long Beach School District) so we can help them during this trying time."
Not many children would forego toys to help other children in need. Tyler, of Port Washington, felt differently.
"I am so lucky to already have so many toys," Tyler said, "that going one year without getting presents so I can help Sandy victims who were hit so hard and need help makes me feel awesome."
Tyler's inspiration was an emotional one. He was moved to act, the boy said, because his grandparents lost their home and a cousin was forced to move out of her Long Beach apartment. It was all thanks to Hurricane Sandy, which devastated the South Shore community in October.
So on Super Bowl Sunday, Tyler's friends arrived at Unlimited Sports Action ready to play football. But the day was about more than fun and games.
Tyler's birthday wish was answered in a big way when Huntington Station-based Teq announced it would donate a full Smart Board Technology Classroom kit, valued at over $20,000, to the Long Beach School District. Tyler will be invited to help install the Smart Board and meet the lucky class that will receive it.
"The response to Tyler's inspiration has been overwhelming, but is completely aligned with who he is as a person," said Erica Fazzari, Tyler's mother and a local yoga instructor. "Tyler was born with a heart bigger than his body. It is amazing to see him inspire such generosity from his friends, Teq and Unlimited Sports Action. His friends have donated over $1,100 for his birthday!"
The mix of cash and gift cards will be divided among the LBSD Sandy Relief Fund and Sandy Help LB, founded by Bryan Murphy of Remax Innovations.